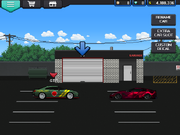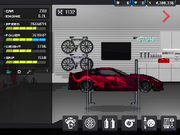 The Garage looks like this, and you can choose the car you want to select to race, modify, or Dyno Test.
The Garage can be changed to what you like and currently, there are 5 types of garages but 2 of them are premium and cost 10 diamonds.
On the side of the screen, there will be tools making an X and that will bring this screen up which will have info about your car its rank (mine is X) and at the bottom there are tabs. That is where you go to equip the part you bought for your car at the part store.
On the other hand, if you click the graph looking icon. Then it brings you to a dyno testing screen here after paying $200 you can use the dyno by using the pedal on the bottom right and using the NOS if you have any equipped to see info about your car (peak HP, peak TQ, RPM, and PSI if you have a turbo or supercharger).